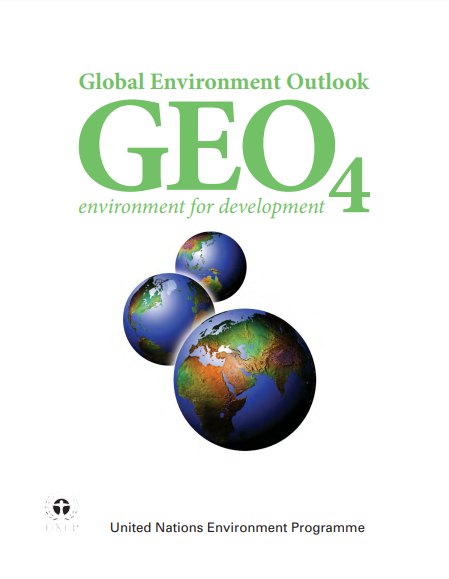 Fourth Global Environmental Outlook report (GEO-4)
Client: United Nations Environment Programme (UNEP) / Division of Early Warning and Assessment (DEWA)
Date: 06/2006-12/2007
Location: Kenya
Description:
Dr. Meslmani was one of the lead authors of Chapter 2, working group "Atmosphere" and a contributing author of Chapter 6, "Sustaining a Common Future" for West Asia region of UNEP's fourth Global Environmental Outlook report (GEO 4).
The fourth Global Environment Outlook – environment for development (GEO-4 ) places sustainable development at the core of the assessment, particularly on issues dealing with intra- and intergenerational equity. The analyses include the need and usefulness of valuation of environmental goods and services.
The GEO-4 Assessment report was launched on 25 October 2007 in London. The year 2007 is also momentous because it is the 20th anniversary of the report by the World Commission on Environment and Development, Our Common Future.
GEO-4 investigates the effects of the often worsened environmental changes for quality of life worldwide. Environmental sustainability is one of the Millennium Development Goals (MDGs) and also of crucial importance in achieving other millennium goals as halving poverty, hunger and diseases. MNP's contributions to GEO-4 are found in the areas of environment and development, vulnerability of societies, future scenarios, air quality and climate change.
–       State-and-Trends of the Environment: 1987–2007;
Atmosphere. Lead authors: Mike Ashmore, Duncan Brack, Hans Eerens, Sara Feresu, Kejun Jiang, Héctor Jorquera, Sivan Kartha, Yousef Meslmani, Luisa T. Molina, Frank Murray, Linn Persson, Dieter Schwela, Hans Martin Seip, Ancha Srinivasan, and Bingyan Wang. Fourth Global Environment Outlook report (GEO-4), pp. 39-80.